BREAKING: Armed police are on the scene of London Bridge as reports of terror attack(s) emerge of three locations in the UK, including: London Bridge, Vauxhall and Borough Market. The London Bridge attack involved a white van mowing down pedestrians. (scroll down for witness videos) 
Britain now faces it's potential third major terrorist attack in just three months, mere weeks after the Manchester Arena Bombing killing 23 victims (including children as young as 8 years old) and 116 injured, on 22 May 2017.
Armed police in London: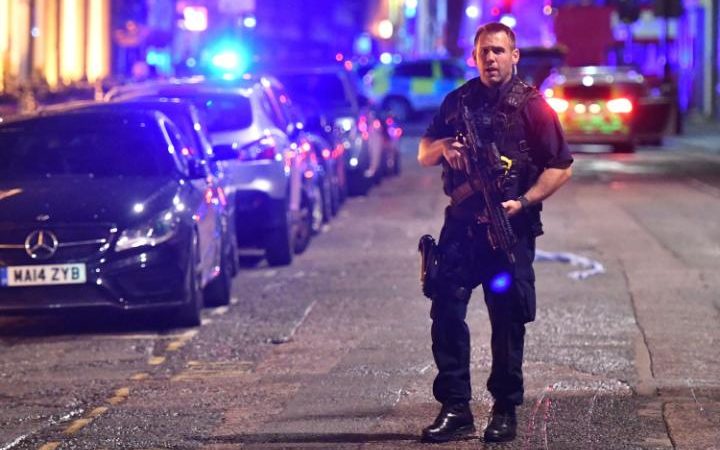 As well as #LondonBridge officers have also responsed to an incident in #BoroughMarket. We have armed police at the scenes.

— Metropolitan Police (@metpoliceuk) June 3, 2017
Reports of up to 20 people have been "mowed down" by a white van "probably travelling at about 50 miles an hour" in London and knife attacks including "throat cuts" nearby.
Throats cut on London Bridge. https://t.co/RVG5wiVxWb

— Paul Joseph Watson (@PrisonPlanet) June 3, 2017
President Donald Trump responds:
Whatever the United States can do to help out in London and the U. K., we will be there – WE ARE WITH YOU. GOD BLESS!

— Donald J. Trump (@realDonaldTrump) June 3, 2017
We need to be smart, vigilant and tough. We need the courts to give us back our rights. We need the Travel Ban as an extra level of safety!

— Donald J. Trump (@realDonaldTrump) June 3, 2017
Predictably many people on social media seem more concerned about "Islamophobia" than they are with the innocent victims of vicious terror attacks:
Getting pissed of at reading people blaming Muslims. Being a Muslim and being a terrorist are two different things #LondonBridge

— stones_n_sticks (@stones_n_sticks) June 3, 2017
Angry at amount of racist arse holes jumping onto this right now. A psychotic evil murderer doesn't rep an entire religion #LondonBridge

— Alan Dowling (@alandowlingM44) June 3, 2017
Do not blame Muslims! Terrorists are NOT Muslims!! So sick of seeing hateful comments against them! #LondonBridge

— Emmahh Downing (@EmmaDowning92) June 3, 2017
Bystanders/witnesses share footage of public reactions to the attack on social media:
London bridge bar now. Police everywhere pic.twitter.com/0gWH9jhgdX

— James Yates (@Yatesy17) June 3, 2017
#LondonBridge witness interview says there was a shootout with armed police behind armored vehicles. This is a coordinated Islamic Attack. pic.twitter.com/yPdVjAejZ8

— Red Pill (@IWillRedPillYou) June 3, 2017
Comments
comments