Don't make the black mob angry. That's the message being sent out from Baltimore Mayor Stephanie Rawlings-Blake who admitted today that part of the reason for the $6.4 million settlement to Freddie Gray's family was to prevent riots from breaking out. (scroll down for video)
"Faced with the prospect of significant legal expenses involved in an extended federal lawsuit," announced the mayor, "as well as the potential liability that could come with an unfavorable jury verdict, our city's attorney's came to the conclusion that the $6.4 million settlement is in the best interests of protecting taxpayers."
Key words: "as well as the potential liability that could come with an unfavorable jury verdict".
By "potential liability", she's referring to this:
And this: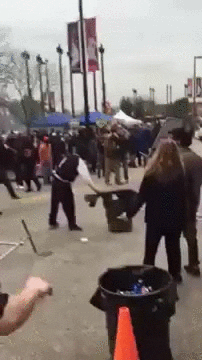 And this:
In other words, the settlement was partially (if not entirely) motivated by the fear of another mostly-black riot in the city of Baltimore, which plagued it earlier this year after #BlackLivesMatter and other related black supremacist groups concluded that the death of Freddie Gray was a "racist hate crime", even though half the officers charged were black:
Mayor Stephanie Rawlings-Blake is the same bozo who admitted to essentially allowing the riots to occur as part of people's "free speech". Because nothing says "free speech" like barbarically tearing down local businesses into piles of burning rubble:
In her own words, she'd said:
I've made it very clear that I work with the police and instructed them to do everything that they could to make sure that the protesters were able to exercise their right to free speech. It's a very delicate balancing act, because, while we tried to make sure that they were protected from the cars and the other things that were going on, we also gave those who wished to destroy space to do that as well.
Don't make the black mob angry. What kind of world do we live in where it's the modus operandi of a city government to give rioters free reign to destroy a city because of a supposed "racial hate crime" where 3 of the 6 officers involved were black?
All of this, of course, reminds me of the scathing, yet controversial book called "Don't Make the Black Kids Angry: The Hoax of Black Victimization and How We Enable It." In it, author Colin Flaherty documents the disturbing trend of black-on-white violent crime that goes essentially ignored, or denied, by the mainstream media. This, of course, is particularly relevant in an age where the narrative is always: "evil racist white people unjustly killing blacks for no reason."
Watch the mayor's announcement here:
Comments
comments